Next Show
| | |
| --- | --- |
| 21st April 2018 | NL version |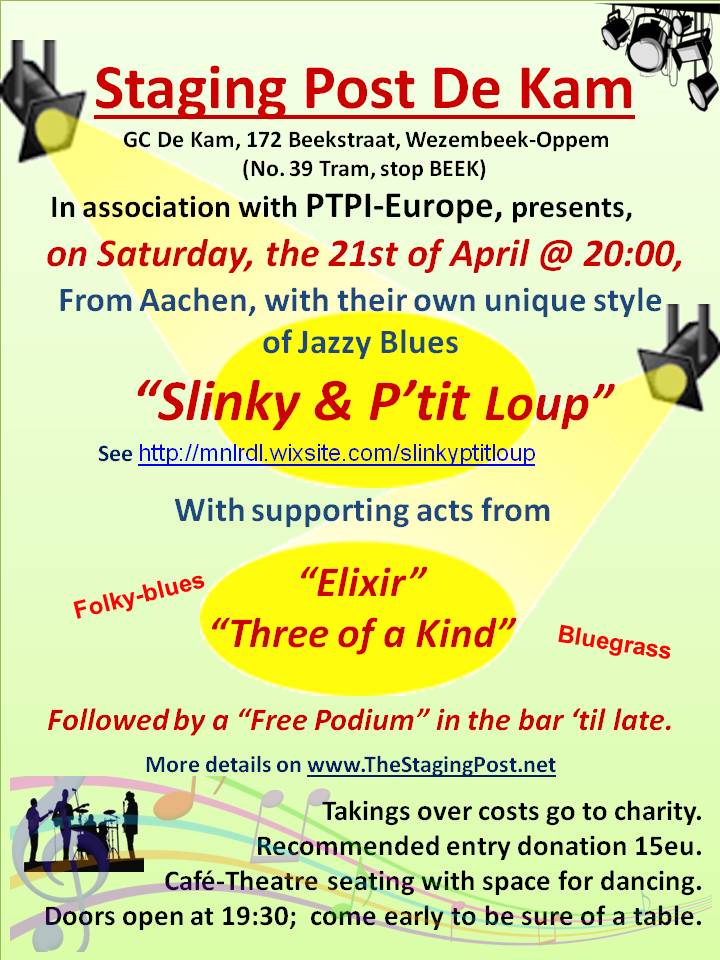 The main act will be "Slinky and P'tit Loup" presenting, generally, blues and jazz numbers in their own, unique way. They hail from Aachen and feature Slinky Williams - vocals, guitar and mandolin, P'tit Loup - vocals and guitar and Monster Joe Leduc - double bass. Slinky and P'tit support the Brussels Folk Club and were good friends of the very much-missed John Makin. They will be promoting their new CD "Zone Bleu". More details on http://mnlrdl.wixsite.com/slinkyptitloup.
Supporting acts are from:-
"Elixir" – Traditional and contemporary folk with a blues edge from Alex Smith, - harmonica and vocals, Andy Upton – guitar and new vocalist, Joanne O'Donnell. More information at https://www.elskovsdrik.com/music
and
"Three of a Kind" – Bluegrass from a multi-national group of Dobro-guitar enthusiasts - Reg Green, Wolfgang Entmayr and Dominique Lambin.