Next Show
| | |
| --- | --- |
| 23rd June 2018 | NL version |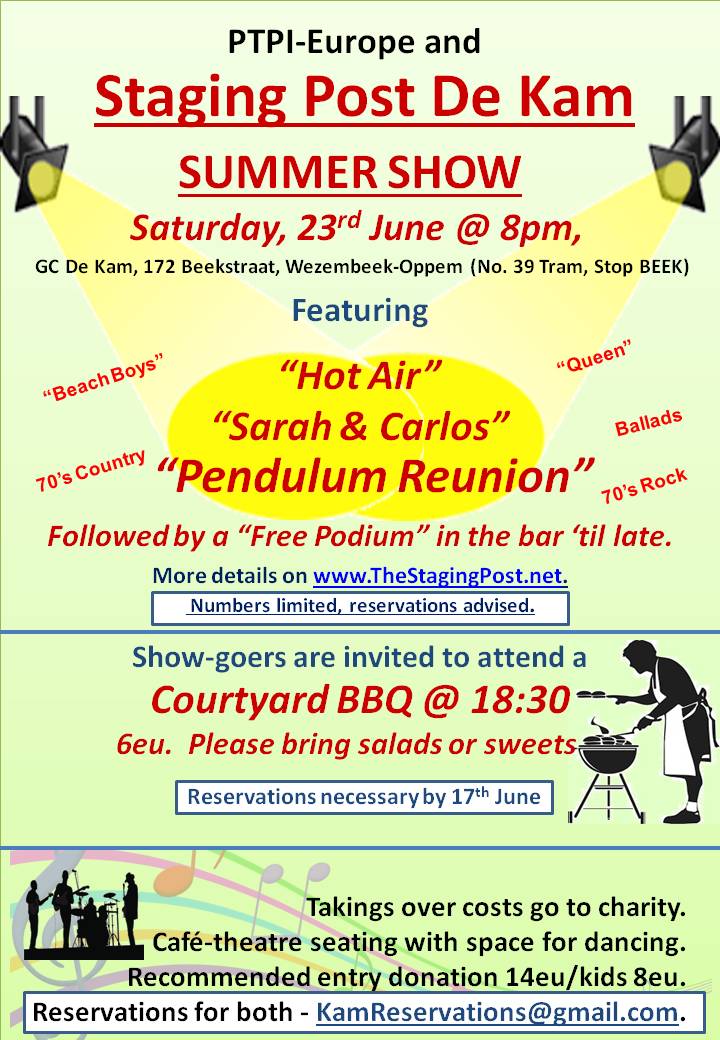 This will be the Summer Show will be preceded by a Courtyard BBQ provided by Mike & Jo Kirrane or Friends International or possibly both. Reservations will be necessary for the BBQ by the 17th June, and, since space is limited, are advised for the show if not attending the BBQ. BBQ attendees will be asked to provide salad and sweet dishes. As last year, to make your reservations, send an email to This email address is being protected from spambots. You need JavaScript enabled to view it. stating the number of people coming and whether you wish to attend the BBQ or not.
We shall open the entertainment by reliving the 1970s through half an hour of songs by "Queen" and the "Beach Boys" from the Hot Air choir, directed by Steven De Mesmaeker, with keyboard accompanist Elizabeth.
Then we are happy to welcome back the lovely Sarah Francois who is now fully recovered from the illness that prevented her last planned appearance. She will sing contemporary ballads for 30 minutes or so, being backed by the superb guitar playing of Carlos Parrar.
You should have digested your food by the time we change gear for the last two sets, which will feature the well-known 1970's country-rock-band Pendulum. They have reformed as the Pendulum Reunion Band, consisting of some of the original members. So, bring your dancing-shoes and rock the night away!
And as always, Set Four will be in the bar after the show, open to anyone who wants to "strut their stuff".