Next Show
Saturday 14th September 2019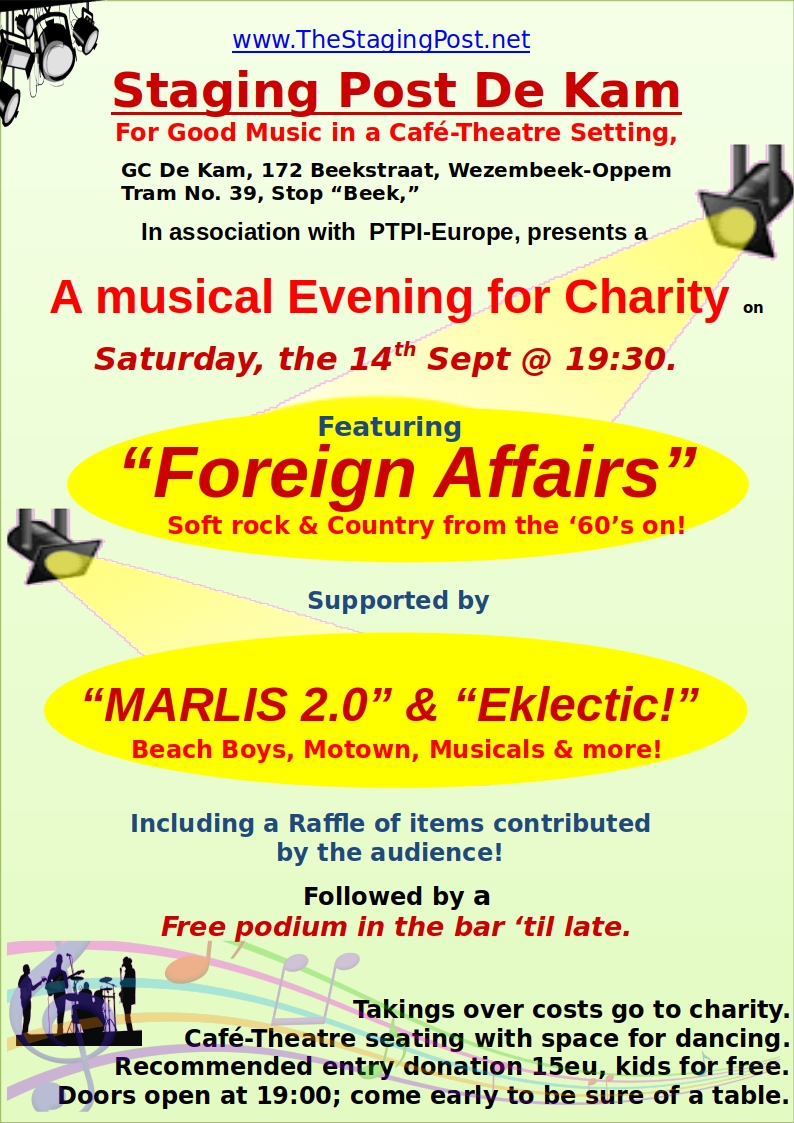 The next show will be a charity show featuring "FOREIGN AFFAIRS" as the main band and "MARLIS -2.0 and EKLECTIC" as the supporting act. The bands are playing for free and there will be a raffle of items donated by you, the audience. Takings over costs from this show and previous shows since the last charity show will be donated to a named charity or charities. These will be chosen shortly before the show. Our last charity show was in September 2018 and "Wardies Way" charity for research into children's cancer was supported in commemoration of Kjeld Jensen.
Everyone knows and loves "FOREIGN AFFAIRS", but how many remember "MARLIS"? MARLIS was formed by Marjolein Gabel, now of Den Hague, and Lisa Armetta (now of "Three Darn Hot") many years ago and gave us some really good shows, mainly extracts from musicals such as "Cabaret", "Sisters", Chicago" and others, but broke up when Marjolein returned to the Netherlands and Amanda moved to the USA. Well, Amanda is now getting married and MARLIS are going over to sing at her wedding. MARLIS 2.0 has been formed for that event, so, backed by the band "Eklectic" formed by Elizabeth Flynn, we can expect some really, good music.
This show will be special in as much as it will feature Marjolein and Dave Skinner, two of the founder members of the Kam Klub, the parent club of the Staging Post, Kjeld being the third. Dave will be appearing as a member of "FOREIGN AFFAIRS". Please put it in your diaries now.
Carlos Parrar, who leads "CHANNEL 9", and his "FOCUS" group will be presenting Latin Jazz and Pop at the Felix Cafe, Brusselsesteenweg 59, 3080 Tervuren, from 8pm on the 5th July, entry 5eu. Reservations through This email address is being protected from spambots. You need JavaScript enabled to view it.. Have a great Summer!