Next Show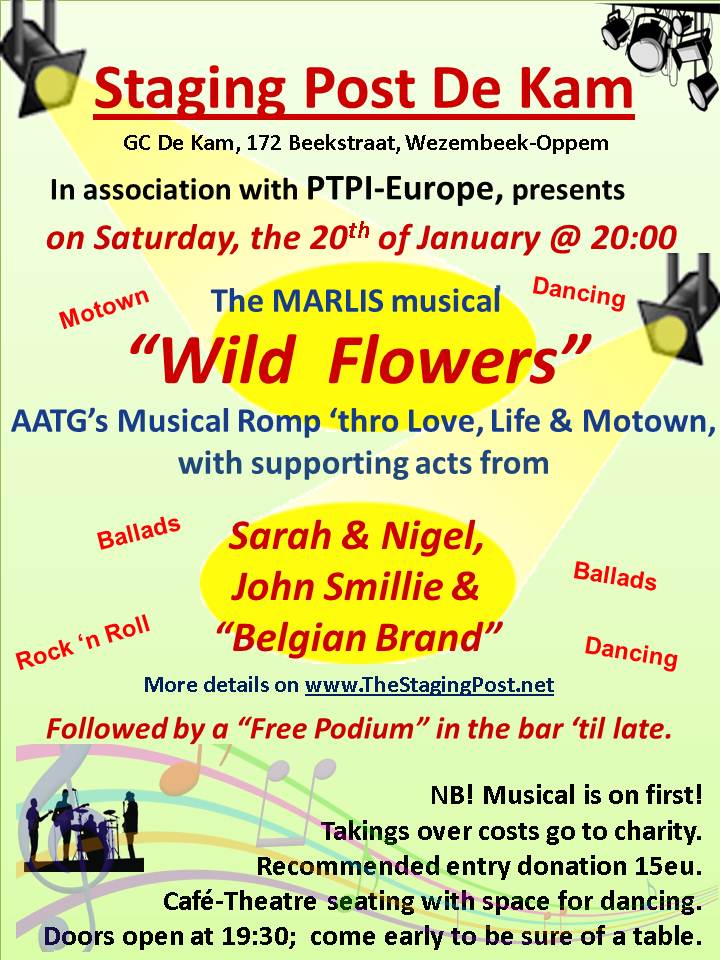 The main act for the evening will be by a group from Den Haag who need to get back at a reasonable hour so we are presenting them as the first act. So if you wish to hear them, you will need to get there on time. The evening will proceed as follows:-
"Wild Flowers"
Marjolein Gabel is a founder member of our predecessor, the Kam Klub. MARLIS was the name of the group set up to perform extracts from musicals, by Marjolein and Lisa Armetta (Lottie Child in "Crazy for You"), both of whom were/are BLOC members. I had the pleasure of playing banjo in many of their productions. They created a short musical, "Wild Flowers", described as a "romp through Love, Life and Motown", which was last played in Belgium at the Kam Klub eleven years ago. Marjolein moved back to Holland some years ago but continued her musical talents with the Anglo-American Theatre Group out of Den Haag. So it is with great pleasure that we welcome back Marjolein and the AATG to give us the latest version of "Wild Flowers".
Sarah and Nigel.
We welcome again the lovely Sarah Francois, who with the versatile Nigel Ward's backing, will entrance us with her beautiful voice.
John Smillie
As a previous manager of the Kam Klub, this ever-popular singer-song writer is no stranger to the De Kam stage. He appears to promote his new CD, copies of which will be on sale.
Belgian Brand
New to the Staging Post, this six member Belgian rock-band will play out the evening with some very popular numbers. Bring your dancing shoes!
Olivier Buckley and Alys Sheahan
Unfortunately, Olivier and Alys have had to drop out. We hope to see them again sometime in the future.
Free Podium
As usual, there will be the opportunity for anyone to sing and play their instruments a in the bar after the show.