Previous Shows
21st April 2018
"Elixir" opened the first set and gave us half-an-hour of great renditions of Robert Burn's poems set to their own tunes, the Scottish dialect being perfectly enunciated by Alex and Joanne backed by the masterful guitar of Andy.

Then "Three of a Kind" gave a further 30 minutes of really good Bluegrass music.

The remaining two sets were admirably filled by "Slinky & P'tit Loup". Their performance was truly professional and enjoyed by all. After such a superb performance, no-one wanted to play in Set 4 in the bar. But it was well attended, and Koen kept serving us until well after 12:30am. We look forward to welcoming all three bands at some future Staging Post.

Thanks are due to William, who took some video recordings. You can see them on the following links:-
"Elixir"- https://dantzer1.smugmug.com/The-Staging-Post/April-21-2018/Elixir/n-rwkw85
"Three of a Kind" - https://dantzer1.smugmug.com/The-Staging-Post/April-21-2018/Three-of-a-kind/n-cF7M3J/
"Slinky & P'tit Loup"- https://dantzer1.smugmug.com/The-Staging-Post/April-21-2018/Slinky-Ptit-Loup/n-2gTfHW
20th January 2018
The show of the 20th January 2018 was a great success artistically in spite of a number of set-backs. With Steve stuck in Mexico, the show was organised and run by William, Tony, Roque, John Smillie, Valerie, Rosemary, Rudy and John Hiley. At the very last minute, Sarah Francois had to withdraw due to sickness, but Superhero John Smillie stepped up and filled her place, with assistance from Keith Paton. Originally John was intending to do 10 minutes before the main act to allow for late-comers and to promote his CD. He then expanded that to cover Alys Sheahan's dropping out, and at the last moment, expanded it again to cover for Sarah too, whilst also brilliantly compering the whole evening. The spectre of Steve was occasionally spotted floating around at the back of the stage; he got back only at 2am that morning.
The AATG opened with a super rendition of the MARLIS musical "Wild Flowers", followed by John giving us a thorough preview of his new, brilliant CD, "Superman's Lament", which was, and is still, on sale. John donates all cash from sales of his CD to MSF and Oasis in Belgium, and MENCAP in UK. Keith recited "Albert and the Lion" and then "Belgian Brand" gave us a great final set with the audience demanding an encore. AATG came as a theatre group fully equipped to put on a show. They were complete with band, set, costumes and a sound engineer. Unfortunately, most of the AATG group had to return to Den Haag that evening. We thank them for coming so far to give us a great show. It was the very first appearance of new band, "Belgian Brand", and they made a wonderful job of it. Because the AATG set used the whole stage, "Belgian Brand" was not able to do their sound checks prior to the show so these had to be done during the second interval. Sound checks are never good to listen to and a few people left then thinking the remaining act would be the same. This was certainly not the case.
Because we could not field the advertised programme, we decided to lower the recommended entry donation to 12eu from the originally recommended 15. The final bills have yet to come in, but at this stage it looks as though we have broken even. The audience numbered about 60 and we thank you all for your support.
William made some video recordings which may be viewed on-
https://dantzer1.smugmug.com/The-Staging-Post/Wild-Flowers/n-nwHzWj
https://dantzer1.smugmug.com/The-Staging-Post/Belgian-Brand/n-BV8dt2/
https://dantzer1.smugmug.com/The-Staging-Post/John-Smillie/n-h25JRQ/i-Vkr7w4M

17th November 2017 - Charity show
Last night's charity show was another terrific evening. The standards and professionalism of the artists were the highest and the audience experienced an extremely entertaining evening. The evening opened with three thirty-minute acts from "Table for Two" - great Bluegrass, Luis Reis - fantastic Blues and Yvonne Stausbol – lovely, own-ballad compositions. "The Manneken Pistols" rounded off the evening with great 60's & 70's numbers during which the Raffle was drawn.
For Set Five, in the bar, "Table for Two" and "Klezmerpolitan", the duo due to play at the Brussels Folk Club on the 19th November, teamed up and with Glynis, and we had a truly gemutlich session of song, accordion, mandolin, banjo and guitar until 1:30am. You may again hear Thierry of "Table for Two" at the Brussels Folk Club, Rue des Alexiens 67, 1000 Bruxelles on the 10th December a member of "The Sons of Naverrone".
We raised 600eu which has been donated to "The Little Sisters of the Poor" for their work with the aged as part of Serve The City. See https://www.servethecity.brussels/projects/little-sisters-of-the-poor/. Thanks to the artists and everyone who supported us.
16th September 2017
Possibly the best evening ever was had at De Kam on the 16th inst., with "The Thumping Tommys" continuing to thump in the Free Podium bar until almost 4am. What a night! Even Koen got up and sang. But the outstanding performance of the Tommys must not overshadow the terrific performances given by our three opening acts, "The Red-Hot Skillets", "Blue Garden" and "Sophisticated Ladies". All were brilliant. We hope to see all four groups back again sometime.
24th June 2017
A most excellent BBQ followed by another brilliant show.
"Three of a Kind" opened with great bluegrass music.
"Tuani" gave us a selection of Joelle's soul compositions.
Sarah Francois's lovely voice with Nigel Ward's backing gave us a super choice of popular songs.
The guest band, the intriguingly named "Babes in the Grass", consisting of Elly, Beppie and Adrie, helped by hubbies Jan and Bruno then gave a highly entertaining two sets, singing a mixture of styles that kept our feet tapping to the end.
Photographs, courtesy of Michael Desmedt, here.
11th March 2017
Videos (William Dantzer) Photos (Michael Desmedt)
It was yet another great evening.
Dave Skinner did a magnificent job opening the evening with some songs very topical in Belgium.
Then "Elixir", with Alex brilliantly demonstrating what 18th century Scottish English sounded like in a number of folk songs, superbly backed by Andy and Barry. Andy stood in for Monika.
"Martin and Company" from Liege, provided an excellent selection of songs adapted to their own style, with superb musical accompaniment. https://www.facebook.com/QuatuorMandC/
The main act, "Channel 9", rounded off the evening with two great sets of swinging and groovy numbers that had many dancing much of the evening. https://www.facebook.com/Channel9Official/about.
We finished late so Set 4 in the bar was canned. We hope to see all again sometime in the future.
4th February 2017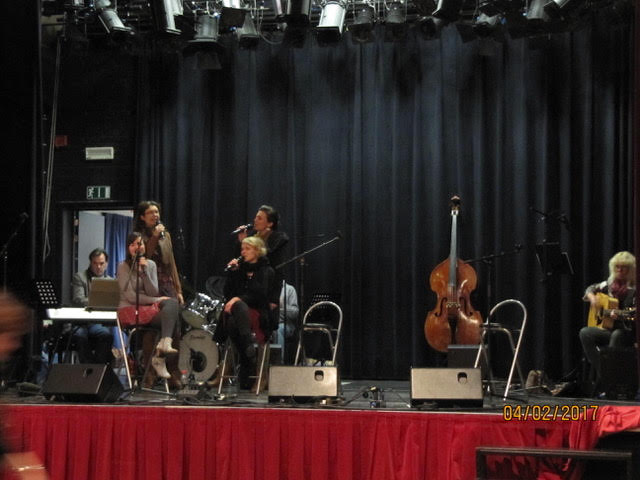 The show on the 4th of February was amazing. John Smillie opened in his usual inimitable style, followed by Oliver Buckley who gave us all an astonishing lesson on how to play the guitar and sing brilliantly whilst jumping about, all at the same time. Then the fabulous Fabian Tibaldi gave a wonderfully emotional demonstration in Spanish, of what Tango singing is all about. Really, Magaldi has nothing on Fabian!
And then we were entranced by the enchanting "Encantadas" giving a terrific performance over two sets, which had the audience clamouring for more and more. Finally the band was able to escape to the bar, where John led an impromptu singing session. We had a extremely enthusiastic audience of about 40 and on behalf of all the artists and organisers, I thank you for coming and hope to see you at the next show on the 11th of March.
18th November 2016
The show on the 18th was very well appreciated. We had some wonderful short-acts with songs from Richard and Alin, excerpts from "Joseph" from Laura Ford and Benedict Landsbert-Noone, Brazilian songs from Lies Van Lammeren and excerpts from musicals and operettas from Luk Van der Heyden and Elizabeth Flynn. The guest band for two sets was "Zsa Zsa Zsu" who were "out of this world". We have done the sums and we have been able to give 650eu to the charity, more than we anticipated. Thank you to all who attended, for your generosity.
Shortly after the show I discussed it with the priests from St. Anthony's, Fathers Brendan and Patrick. They told me that longfibrose is known as cystic fibrosis in English, a terrible disease from which some of their parishioners in Ireland had suffered. Their descriptions of people with this disease really brought home to me what the Belgische Vereniging voor Longfibrose is fighting. The Fathers made a generous donation to the charity through the Staging Post, which is included in the above sum.